6D HIFU + Privacy + Detection Function
1. Lift and tighten skin on face and body.
2. Remove all wrinkles on face and body.
3. Rejuvenate and repair skin on face and body.
4. Remove surplus fat on face and body.
5. Improve skin elasticity and shape contour, improve jawline.
6. Firm and tighten vagina, improve sexual life.
7. Comprehensive vagina improvement.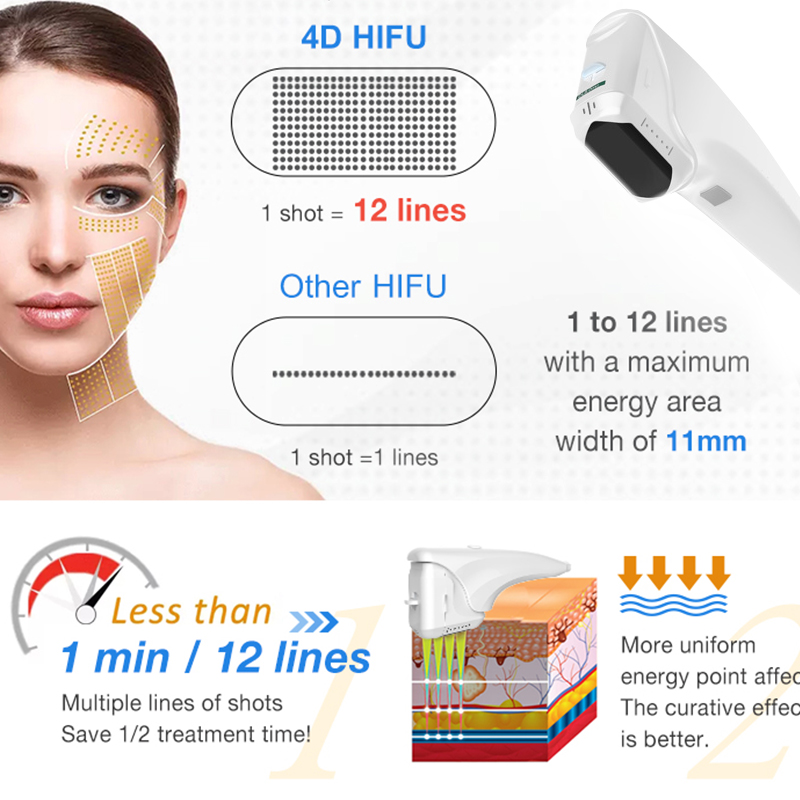 Advantages of 6D Handle
① Instead of the traditional surgical face lift with a non-invasive technique.
② Updated cartridge with 20,000 shots, one press 12 lines, which save your more time for treatment.
③ Tighten sagging skin, improve sagging and other signs of aging.
④ With a special transmitter, transmission from the skin surface conduction of high-energy focused ultrasound to the SMAS layer.
One treatment with obvious and Immediate effect !
Hifu Principle
Ultrasonic focusing reaches the SMAS layer with its specific high-energy focused ultrasound, improves the SMAS suspension, comprehensively solve the facial sagging and relaxation problems. It accurately positions the ultrasonic power on the SMAS 4.5mm under skin, performing the best effect of shaping, pulling and compacting for musclegrowth and traction; impacts on the collagen layer 3mm under skin, making the collagen restructured and newborn, solving the aging problems by recovering elasticity, skin whitening, wrinkle removing and pores shrinking.